We manufacture a wide variety of insulation products with a broad range of performance characteristics predominantly to bespoke specification.
We often assist companies that need to fulfil a product requirement or solution by helping them at development stage. This service is something we do across many sectors, with our team producing CAD designs from your design brief, or from files supplied by you.
All material used in our products meet stringent quality standards and have well documented acoustic, thermal and fire-resistant qualities. The materials we use are selected for their high-quality functionality, robustness, sustainability and cost efficiency.
---
Rockwool, Stone wool
Stone wool insulation is made from a natural and vastly abundant material - volcanic rock. The material possesses outstanding fire, acoustic and thermal insulation properties as well as a lifelong durability, making it a sustainable and cost-effective choice. The Rockwool range of slabs and densities provide AIM with an excellent base from which many of our products are manufactured.
---
Rigid foam insulation: PIR / EPS / XPS
AIM is experienced in the conversion of all forms of rigid foam insulation. We have strong relationships with many of the manufacturers and will work with any of the brands available in the UK. Rigid foams tend to be used either for their superior thermal insulation performance, compressive strength and rigidity, or a combination of both.
Construction boards:
AIM has extensive knowledge of fabrication products and use a wide variety of construction boards including cement fibre boards, cladding panels such as Rockpanel, as well as sheet timber such as OSB and ply. The boards are often bonded to a slab or sheet insulation to create higher impact resistance and thermal or acoustic performance, often with an aesthetically pleasing appearance.
---
Ancillary materials such as DPC, foils:
To complement or enhance the performance of many of the products offered, we have the capability and expertise to apply additional materials to the insulation products chosen. Be it a DPC bonded to stonewool to prevent moisture ingress, an aluminium foil to prevent fibre migration or a glass fibre tissue to enhance acoustic performance, AIM has the expertise to select the right material for the customers' requirements.
---
Value engineering:
AIM has well over 100 years collective experience in converting insulation and manufacturing insulation-based panels and products. This experience, from a wealth of sectors, makes us the ideal choice for assisting with ingenious ways of reducing project or component costs.
Our range of machinery enables us to manufacture bespoke designs for a range of applications across several sectors. Our team has an in-depth knowledge of our machinery, how they work in application and outcomes, as well as the materials used and material behaviour during manufacture and use. Operation of the equipment is by highly trained and qualified personnel to meet the most demanding of project requirements.
---
Large table band saw
A large sliding table bandsaw with a 3000 x 2500 table used for accurate and repetitive cutting of low to medium density materials.
---
Platen presses
These hydraulic presses can apply 50 tonnes of pressure to materials up to 2400 x 1200 x 500 mm. They are used in a variety of our manufacturing processes.
---
Vacuum bed router
This CNC router has a bed of 3000 x 2000 mm and an X-axis of up to 500 mm. It can cut 2.5D objects in batches as well as cutting panels into intricate shapes. This machine has automatic tool changing capabilities and can select from 10 different tools in any one program. This machine is very accurate and will cut to a tolerance of a tenth of a millimetre.
---
Spindle moulder
A large, table machine with spindle tilt for edge detailing materials of up to 140mm thick.
---
Laminators
Conveyor-fed cross bead laminators with programmable adhesive coat weights and coat widths. These laminators can produce large batches of construction panels for a variety of applications.
---
CNC hot wire cutting machine
For cutting EPS and XPS foams into complex or simple 2-dimensional shapes. This machine has a 4000 x 4000 mm bed for producing small to medium sized batches.
Lamella saw
A conveyor fed lamella saw used for accurate and repetitive cutting of high-density insulation materials
---
Small band saws
Used for accurate cutting of small batches of low to medium density materials.
---
CNC Beam saw
An automatic feed, large panel cutting saw which is ideal for small to medium size batches of material. This saw can handle panels of up to 4000 x 3000 mm with a cutting tolerance of a tenth of a millimetre. This machine has optimisation and item labelling facilities
---
Tilt arbour dimension saws
These heavy-duty, sliding table dimension saws can accurately cut high density materials up to 150 mm thick. They have programmable blade heights and programmable blade tilt angles.
---
CNC cold wire saw
Large capacity programmable abrasion saw for accurately cutting batches of complex 2-dimensional shapes
---
Dry filter spray booths
We have three 6.6m booths used for a variety of fabrication processes which require the safe application of gun sprayed adhesives.
---
Polythene enclosing machines
Used for applying polythene sleeves to a variety of materials.
---
Our Partners & Affiliates
---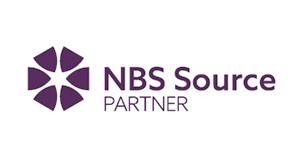 AIM are partners with NBS. Our products can be found on NBS Source and have been authored to NBS specification standards and have both CAWS and Uniclass 2015 classifications.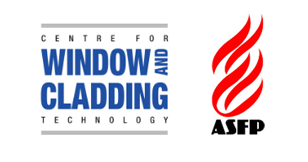 AIM are members of Centre for Window and Cladding Technology & ASFP.