AIM's Manufacturing Capabilities Rock Ecobuild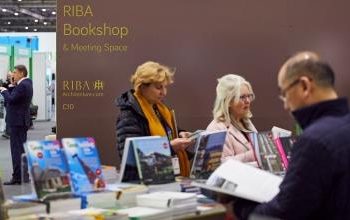 AIM's state-of-the-art manufacturing capabilities were showcased at last week's ecobuild exhibition after the company partnered with Rockpanel® to deliver a highly creative stand for RIBA at the show. …
AIM's state-of-the-art manufacturing capabilities were showcased at last week's ecobuild exhibition after the company partnered with Rockpanel® to deliver a highly creative stand for RIBA at the show.
After emerging as the winner in a competition to design the RIBA Bookshop stand for ecobuild, architects Freehaus turned to AIM for support on the manufacture of the materials required to turn its vision into a practical reality.
Starting with 24 Rockpanels at three metre lengths, AIM worked from CAD drawings to manufacture the materials into the required specification – which included the main stand structure as well as furniture items.
Using its advanced CNC cutting machine, AIM used a combination of through-routing and surface-routing techniques to achieve a precise and high quality finish, with 1.5mm deep routing utilised to create striking and colourful graphics. This included the manufacture of 3050 x 1200mm Rockpanel® Chameleon panels which were eventually constructed as a nine metre long book display wall.
Crucially, the AIM technical team delivered this bespoke manufacturing project against tight timescales – with materials on-site ready for stand build just a week after receipt of the original CAD drawings.
Tim Dalton, General Manager, AIM, part of SIG Performance Technology, commented: "This was the first time we've ever manufactured materials for a complete stand build out of Rockpanel®… but that's the nature of bespoke manufacture… everything is a first! Our CNC machines can be used to cut a broad range of construction materials with absolute precision and accuracy – the stand at ecobuild is testament to that, it was an excellent project to deliver."