AIM Launches New Open State Cavity Barriers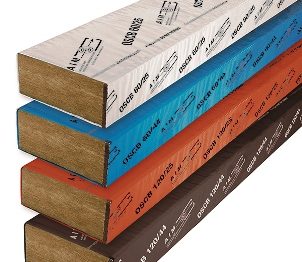 Expanded range addresses fire protection in façade applications Specialist insulation manufacturer, AIM, part of the fire and thermal division of SIG Performance Technology, has developed a new range …
EXPANDED RANGE ADDRESSES FIRE PROTECTION IN FAÇADE APPLICATIONS
Specialist insulation manufacturer, AIM, part of the fire and thermal division of SIG Performance Technology, has developed a new range of Open State Cavity Barriers (OSCB) – to complement façade applications – all whilst offering up to 120 minutes integrity and insulation performance.
Manufactured from ROCKWOOL® stone wool and faced with intumescent material, the AIM OSCB provides an open airspace of 25mm and 44mm. When installed the OSCB allows air flow in the façade cavity, with the intumescent strip expanding to create a robust cavity fire barrier, in the event of a fire.
Tim Dalton, General Manager, AIM, comments: "The need for High Performance Open State Cavity Barriers has been given growing prominence following publication of the ASFP's Technical Guidance Document – TGD 19 – which details market guidance for development of these products.
"As an insulation innovator we've responded to this need by developing a comprehensive choice of OSCBs, which will enable the right product to be exactly matched to a specific application."
For ease of identification, the four products are colour coded in red, white, black and blue indicating the integrity and insulation performance of 60 or 120 minutes. A simple fixing procedure makes the AIM OSCBs quick and easy to install on-site, with no specialist tools required.
The AIM OSCB range will officially launch to market at UK Construction Week (9th – 11th October 2018) find us at the Build Show on Stand B876 at the NEC. For further information, please call 01293 582400.
Download our brochure here.
Expanded range addresses fire protection in façade applications Specialist insulation manufacturer, AIM, part of the fire and thermal division of SIG Performance Technology, has developed a new range …